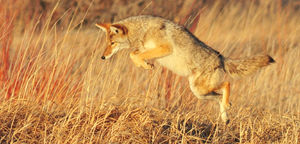 THE LIFE AND TIMES OF JIM WILSON
THE COLLECTION OF ARTISTIC WORKS MANAGED AND MADE AVAILABLE HERE AT BLUE NORTHERN MUSIC PUBISHING, REPRESENT THE LIFE'S WORK OF JIM WILSON, THE "LITTLE WOLF".
Jim Wilson was born of Choctaw and Irish descent in the state of Oklahoma, in August of 1946. Childhood years were mostly spent in the small towns of west Texas and southern Oklahoma. After graduating from high school in Richardson ,Texas, he moved to Lame Deer, Montana to work with the Northern Cheyenne Tribal council. This at the behest of his grandmother who was very active in Native American issues. During this time there were a great number friendships made and powerful experiences with the tribal elders and medicine men. Wilson was struck by the giving nature of the Cheyenne people and would spend many nights listening to ancient stories and songs. The beauty of these songs and the depth of their meaning and history ignited a passion within Wilson to explore his own Choctaw heritage, and a deep appreciation for Indigenous cultures worldwide. This would, in later years, prove to be a valuable source of inspiration in the creation of contemporary Native American music. Following this time with Cheyenne people, Wilson was married and had a son, attended college in Billings, Montana and later post- graduate study at the University of Montana in Missoula. 
In 1976 he moved to Vancouver B.C. to pursue his musical career. There he became one of the founding members of the Cement City Cowboys, a popular country and western swing group. Later Wilson created a new group " Blue Northern" with Billy Cowsill. This was a country rock group that recorded three albums for Polygram records and had five #1 singles in both the pop and country charts from 1982-1986 along with Juno nominations and CCMA awards. After a second marriage and the birth of his second son, Wilson retired from the "road life" of a touring band to concentrate on song writing and recording projects. 
During this time, a number of songs were written for the Grammy Award winning Queen Ida and the Bon Temps band. 
In 1988, Wilson drew on his Native American heritage, and the Medicine teachings he had received to create a "New Native" project entitled "Shaman's Dream of the Animal Spirits". Although this extended opera concept was never finished, many of the songs would later be released as single compositions ("Coyote Dance", Music for the Native Americans). 
 Putting aside much of what he had learned about composition for Country and Creole music, Jim instead took to the synthesizer, creating layered soundscapes of intuitive chord progressions that were then blended with recordings from live artists - musicians from many places around the world who shared their gifts of flutes, percussion, singing, chanting and stories.  It was during this time in Vancouver, when Jim Wilson would be befriended by the legendary Chief Dan George of the  Tsleil-Waututh Nation, local to the area.  The Chief was already famous for his noble spirit, his activism and his major hollywood movie roles.  Wilson was both honoured, humbled and excited when Chief Dan George offered to put onto tape for the first time his "Song for all Nations".  This powerful recording would later be released for the world to hear as the first track  "Prayer Song" on the Little Wolf Band album Dream Song. 
In 1990 Wilson collaborated with his great uncle David Carson who had just developed the Medicine Cards oracle deck.  A deck of cards featuring different animal teachings collected from Carson's extensive travels through Indian country.  Together they created a companion album to the card deck entitled "Medicine Songs"  Each song was themed around a different animal teaching, and featured some of Wilson's finest early work, accompanied by David Carson's spoken word poetry and guided meditations.  One late night in New Mexico while Wilson was staying with Carson to record the album, they went outside to record the sounds of the crickets who were in full chorus.  They thought that the sound of the crickets would provide a magical background to the composition.  When they went to play back the tape, something magic happened that has been legendary ever since.  The tape player was set to playback at a fraction of the normal speed.  When Wilson and Carson heard the sound that was coming from the tape deck they were instantly awe-struck.  The Crickets when slowed down, had become like a choir, singing together in what would later be called by fans "God's Cricket Chorus".  This song would go on to be released on several albums as the track titled "Twisted Hair".  This early recording of the crickets, would inspire many people from spiritualists to naturalists, some people even began copying the tape into a longer loop to be used for meditations.  They believed that Wilson and Carson had truly tapped into a powerful secret of the crickets - their true song! Many years later, the Cricket Chorus went viral on the internet and now many millions of people have heard the song of the Crickets from all those years ago. 
In 1992, Wilson decided to re-locate back to the United States where he was soon contacted by Robbie Robertson who had heard some of the "Shaman" and "Medicine Songs" tracks while visiting with mutual friends in Vancouver.  When Wilson played the opening sequence of  his "Coyote Dance"  Robertson was so struck with inspiration that he declared that Coyote Dance would be the first track on an all new album.  An album Robertson and Wilson would produce together that would at once define a new genre of Contemporary Native American music and assemble an incredible diverse team of talent from all over turtle-island entitled "The Red Road Ensemble".  From all over the continent, Wilson called upon his many friends who had powerful songs to share, and together with Robertson assembled this "Red Road Ensemble" Everyone collaborated together, weaving the traditional songs together with Jim Wilson's unique production style and Robbie Robertson's smokey americana voice and guitar.  The combination was a major hit, and Capitol Records came on board. 
Work was begun on both the soundtrack for the TBS six hour documentary "The Native Americans" and the album "Robbie Robertson and the Red Road Ensemble - Music for the Native Americans". Both projects were completed by 1994 with the documentary series winning three Emmy Awards and the 
album selling over a million copies worldwide.  Not only had Native American music finally got its foot in the door of the global music industry, it had kicked that door right down. 
In 1995 a new album was released through Triloka records under the name " Little Wolf Band" and titled "Dream Song". This would be a highly acclaimed addition to the growing "New Native" genre.  This album featured many of the original "Shaman's Dream" and "Medicine Songs" tracks, now updated and enhanced in the studio with new recordings.  This album marked a sense of completion for Wilson, who had now firmly established contemporary Native American music as a new genre, and given many Indigenous artists a platform to be heard around the world. 
Around that time, a fellow producer and musician named Jai Uttal took notice of Jim's unique production style.  Jai had spent many years in India, learning the ancient art of Sanskrit chanting practiced there by the Yogis.  This chanting was known as Kirtan.  Devotional music which chanted the names of God to uplift both the singer and the audience to higher states of consciousness.  Wilson instantly felt a resonance with this music when Jai played it for him, and so began many collaborations between the two.  Together, Jim Wilson and Jai Uttal produced the first breakthrough album for artist Krishna Das, a rising star in the emerging Kirtan scene.  That album "One Track Heart" not only launched Krishna Das as one of the most successful modern Kirtan artists, it sparked something in Wilson. That something was a love and appreciation for music from all parts of the globe, and a recognition that the traditional music of every ancient culture all shared a common purpose, to connect to source. 
And so, a new concept was born, one that would shape the future of Wilson's career from that point on. A project that would assemble traditional Indigenous musicians and wisdom keepers not just from one continent, but from around the entire world.  This project was called TULKU.  The name is a Tibetan word, which loosely translates as "Old soul in a new body".  To Wilson, this perfectly represented what he wanted to accomplish with this project. To take the old soul of these incredible musical traditions and give them new life within a new body of modern production and cross-collaboration.  The album that would then take shape was called Tulku - Trancendence. The opening track "Life Force" starts with the powerful Taiko drum from Japan, a rallying call to get up and dance. The album would feature collaborations from Jai Uttal, Krishna Das, as well as master percussionist Geoffrey Gordon. With instruments from every continent and singers in many languages, Tulku brought listeners a new world of sound. One that was at once ancient and new. Collaborations brought together artists from the Altai to Africa, from India to Native America, Australia and beyond. 
This album "Trancendence" would set the stage as a new genre of music emerged known as "World Beat". Tulku songs would later be featured on the massively popular Buddha Bar Compilation, through which millions of people would hear the Tulku sound. 
In 1996 Wilson and Gordon teamed up to write and produce an album with the Russian born author, Olga Kharitidi . Her book "Entering the Circle" was a highly acclaimed exploration into the mysterious realm of Siberian shamanism. In this recording Kharitidi and Wilson created a musical journey that remains true to the trance experience of the Altai shamans. 
Later in this year Wilson was invited by David Silver of Mercury records to produce an album for pop icon Timothy Leary, a leader of the 60s psychedelic movement. Vintage tracks  from a 1967 Mercury release "Turn on ,Tune in ,and Drop out" and interviews with Leary from just before Leary's passing were then remixed by Wilson into all new compositions with Wilson's now signature "Tulku" sound. Contributions came from many of Leary's personal friends including Fiorella Terenzi, the Moody Blues, and Ministry's Al Jourgensen, this album went on to become a cult classic. Also included on this album is a collaboration between Wilson and American poet Allen Ginsberg entitled "A Tale of the Tribe". 
The second Tulku album "Season of Souls" was written and produced by Jim Wilson for Triloka with guest artists such as Mamek Khadem flying in from Iran, Mayan elder Don Allejendro,and Krishna Das. The song "Heart of Heaven, Heart of Earth" has an invocation by Don Alexandro, a seventh generation Mayan Medicine man from Guatemala while "Tipari," featured Tim Reynolds on slide guitar. Ashley Dargan traveled from Australia to bring the sound of Didjeridoo to the album. Songs from this album were later featured on the movie Bedazzled and the hit TV series Six Feet Under. 
In 1997 Wilson reunited with Red Road Ensemble member and Nashville star Rita Coolidge who had formed a Cherokee-Gospel inspired vocal group with her family titled "Walela", the Cherokee word for hummingbird. Wilson produced the Self titled album "Walela" with Rita Coolidge, Laura Satterfield, and Priscilla Coolidge. This album has proven to be a classic in the "New Native" genre, winning two Native American Music Awards awards. 
In the same year, the second Little Wolf album entitled "Wolf Moon" was also completed which featured Walela in several new tracks.  Wolf Moon is a haunting, enchanting combination of Native American chants and instruments, ambient textures and world rhythms. 
The following year would see Wilson return to the studio with Robbie Robertson to collaborate on a new project titled  "Contact from the Underworld of Redboy".  Many of the original Red Road Ensemble contributors such as Walela, Primeaux & Mike, and Geofrey Gordon were involved, as well as new additions like Joanne Shenendoah and the 6 Nations Singers.  The "Redboy" album received two Grammy nominations and was featured on two VH1 and PBS specials. 
All of this ground breaking work to bring Native American music to the forefront would eventually culminate in 2002 with the Olympic Winter Games in Salt Lake City. For the first time, an American Olympic opening ceremony was conducted by Indigenous representatives, a union of the 5 tribes of Utah. A truly world class presentation, the 5 tribes of Utah took center stage at the welcoming ceremony, giving 5 blessings to the athletes assembled. The song that they chose to open the Olympic ceremony with, broadcast around the world was Wilson's "Coyote Dance".   After the ceremony the 5 tribes presented a massive powwow in celebration and honour of all the countries of the world.  During the celebration Jim Wilson performed several songs on stage alongside Robbie Robertson and the Red Road Ensemble. 
Back at home in the studio and teaming up with Consuelo Luz, Wilson produced the "Dezeo" CD which brings ancient Sephardic prayers in Ladino and traditional love songs into a contemporary world beat setting. The track "Los Bilbilicos" was featured on the Buddha Bar compilation by Claude Challe. 
In a tribute to world peace, Wilson then wrote and produced "Ecclesia" with fellow musician and author James Twyman ("Praying Peace"and "The Emissary of Light"). Based on peace prayers from all the religious traditions of the world, this album creates an ambient trance dance excursion into the world of prayer.  At this time Wilson was married to his partner Corrine, and they would later welcome a new addition to the family together,  a daughter who they named LouLee. 
In 2004 Jim Wilson began work on a compilation album called "Sacred Ground - A Tribute to Mother Earth". The album brought together many of Jim's friends from over the years.  Once again diving deep into the Native American genre, Wilson brought on board Bill Miller, Robert Mirabal, Star Nayea, Joanne Shenandoah as well as Peyote church singers Primeaux & Mike.  Jim Wilson's son, Shane Wilson was featured on this album as composer of the song "Prayers in the Wind". Jim's older son David Wilson, a graphic artist created the album cover artwork. The album gave space for many artists to showcase their talents, under the guidance of Wilson's production.  This album Sacred Ground would go on to win the 2005  Grammy Award for Best Album - Native American Music. 
In the years following the Grammy Award, Jim "Little Wolf" Wilson did not slow down but instead he continued to relentlessly create music and lay out a legacy of world music and Native American music for the world to enjoy.  Over the next 10 years, numerous individual artist album projects for Native American artists like Joanne Shenendoah and vocal duo Primeaux & Mike would be accented by three more LIttle Wolf Band albums he created, entitled Prayer to the Mystery I and II and the retrospective Offerings. Throughout his career, Wilson patiently and humbly earned the trust and respect of the artists he recorded, many of whom were initially hesitant to record songs that were at one time only performed for ceremony.  Through Wilson, these artists found a producer who would work with them with the utmost respect, to nurture their creative process and through that, create a recording that would stand the test of time, and be true to the spirit of the original song. Over the years, these many albums and songs would go on to inspire new generations of Indigenous artists, who could now hear songs from many tribes, many peoples, and many languages, preserved for all time on studio recordings. The cultural revival of Native American culture which took place during Wilson's lifetime was a great source of inspiration for him, and for him, the language, the music and the spiritual way of life were all connected by the same thread. This thread, or the "Red Road" as it is called, wove its way through all of Wilson's work, and indeed through his own life and experiences. It had become so much more than just a music career, it was a way of life. A bead in a story belt, an arrow in flight, a medicine story. 
Jim Wilson had become a master of his craft, and yet he always strived to find new and unheard sounds, chants and prayers. He always treated artists with the utmost respect and sought to help bring their unique music to the world. To bring these sounds and songs to the world was his passion and his joy. During these years he continued to refine and expand the Tulku sound, with an ever increasingly diverse cast of musical collaborations. 
Tulku - A Universe to Come , was followed by Tulku Doors to Paradise and finally Tulku Way of the Mystic. Each Tulku album would take the listener on a different trip around the world, with each journey bringing more and more people together in a spirit of unity and peace. The music of Tulku is timeless, it is a story of constant renewal. 
Jim Wilson passed from this road unto the next in the year 2012, and is dearly missed by his beloved family and many friends.  His musical legacy estate is now managed jointly by his family;  Corrine Wilson, LouLee Wilson, David Wilson and Shane Wilson. They endeavour now to continue to bring his music to the world while preserving this incredible archive of cultural recordings for future generations. 
" Tulku has always been about the act of Transcendence, the alchemy of technology and the universe of ancient tribal wisdom set to modern music. This Medicine Music is all set in motion by the evocative passion of performers from different world traditions. It is our desire that this will translate into an understanding of how much we are joined by the transformative power of music. However subtle, time dances slowly, but in the peace of silence and the act of love we stand close to the fire." ~ Jim Wilson